Easter 2011 in Review
What an incredible Easter Weekend! I was reflecting on all of the hours of logistics that went into this past weekend and was amazed at the sheer volume of volunteers and man-hours invested. Renee and I would like to say Thank You to everyone who volunteered during our Easter Weekend!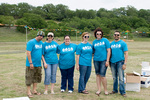 On Saturday, we had 200+ volunteers in our California Blue Life Church Shirts dispersed around our campus as we hosted over 1,600 people in Midlothian's Largest Easter Egg Hunt with 30,000 candy-filled eggs and tons of prizes.  You help make that happen!
On Sunday, we had ordered 100 folding chairs for our Sunrise Service and we had 207 people show up – I think we learned a valuable lesson for next year! The Bauman family had come prepared to feed 60 people (because that is what I told them), in an amazing effort they fed 200 people.
Our total Sunday attendance was 692 people in three services – as I got home and started reflecting – Life Church began five years ago with 10% of this year's Easter attendance.  This has been such an incredible journey and you helped make it possible.  Thank you for the investment of your life!