Monthly Archives:
April 2011
What an incredible Easter Weekend! I was reflecting on all of the hours of logistics that went into this past weekend and was amazed at the sheer volume of volunteers and man-hours invested. Renee and I would like to say Thank You to everyone who volunteered during our Easter Weekend!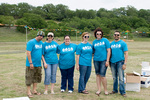 On Saturday, we had 200+ volunteers in our California Blue Life Church Shirts dispersed around our campus as we hosted over 1,600 people in Midlothian's Largest Easter Egg Hunt with 30,000 candy-filled eggs and tons of prizes.  You help make that happen!
On Sunday, we had ordered 100 folding chairs for our Sunrise Service and we had 207 people show up – I think we learned a valuable lesson for next year! The Bauman family had come prepared to feed 60 people (because that is what I told them), in an amazing effort they fed 200 people.
Our total Sunday attendance was 692 people in three services – as I got home and started reflecting – Life Church began five years ago with 10% of this year's Easter attendance.  This has been such an incredible journey and you helped make it possible.  Thank you for the investment of your life!
As Jesus hung on that Cross almost two thousand years ago, he made seven great statements, treasured by believers as the Seven Words from the Cross. Today we finish up our look  at the Seven Words From the Cross:
"It is finished" (John 19:30)
This Sixth Word from the Cross consists of one single word in the Greek – "Finished, accomplished." It was a loud cry that rang out over the the scene. What did Jesus mean? What was finished? Was he referring to his sufferings or his life's work? Certainly it was those things, but even more. It was the end of an era. The Old Testament contains a long list of prophetic utterances, beginning with the first family of mankind, when God told the serpent in the Garden of Eden that he would "put enmity between you and the woman, and between your offspring and hers; he will crush your head and you will strike his heel" (Gen 3:15). It was this great conquest that was being enacted. Jesus' cry was proclaiming his victory over the evil one. In the gigantic struggle between good and evil the Son of Man had suffered grievously but he had finished the work of redemption that his Father had committed to him.It was a shout of victory over sin, death and hell.
THE SEVENTH WORD "Father, into your hands I commit my spirit" (Luke 23:46)
The First Word from the Cross begins with Jesus addressing His Father – "Father forgive" and now it begins the last. God, the Father, had accepted the sin offering made by Jesus, as would soon be demonstrated by his resurrection from the dead. Jesus had come from his Father and to his Father he would return, but first he had to die physically. And so it was that Jesus consciously gave his life. He laid it upon the altar, just as the burnt offering of the Old Testament which had spoken of the greater sacrifice to come.